These hair mask recipes are for those who are suffering from the issues of hair growth, frizz, dandruff, damage and more.
Few natural elements are here due to which you hair become frizzy, dull, damaged, flaked, fading are indoor heat, exposure to the sun, using hair tools, chemical containing products like hair spray, hair gel, outdoor work, using hot tools like straightener, curler, etc. Say bye to the expensive hair products and get into the natural ingredients through which you can make your own hair mask to get the healthier hair back again.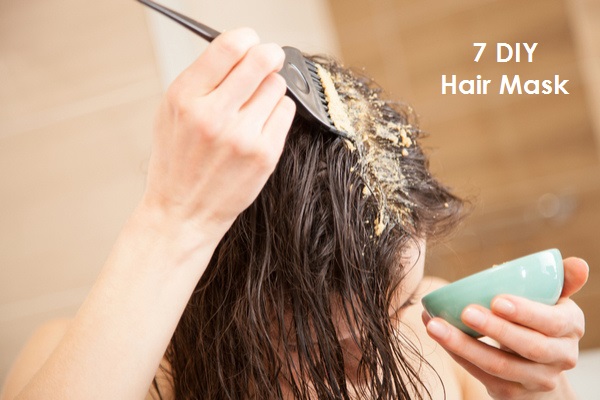 You do not know that staying at home and using homemade products into your hair would be so beneficial for overall hair problems you may go through such as dull hair, irritated scalp, itching due to dryness, lost shine and luster. This compilation of 7 amazing hair masks will do the wonders.
1. Honey, Egg, and Apple Cider Vinegar Mask for Dry Hair
If you see that your hair are losing shine and volume and becoming frizzy, try the mixture of these three ingredients and see the magic. It is one of the best hydrating treatment for your dry hair which provides nourish into your hair. Stephanie Brown, master colorist at IGK Salon in New York City claims that.
Ingredients
One Egg
Apple Cider Vinegar – 1 tbsp
Directions
Take a small bowl and combine all of the above mentioned ingredients together. You can add the quantity as per the length of your hair. Leave it for 40 minutes then rinse it off. This treatment is useful for all hair types.
2. Coconut Oil, Sugar, and Essential Oil Mask for Flakes Issue
When the temperature is dropping, you will notice the flakes are appeared on your scalp. It is because of the heat in your home which is drying out your skin, says Paul Cucinello, a celebrity stylist and owner of Cucinello Studio NYC. Your scalp at this stage needs a proper exfoliation and thus this treatment will help to exfoliate the flakes.
Ingredients
Raw Unrefined Coconut Oil – 2 tbsp
Peppermint Oil – 5 drops
Tea Tree Oil – 2 drops
Directions
Mix the ingredients in a small bowl. Now apply this mixture directly on your clean, damp hair by sectioning the hair with the help of your fingers or you can use a color brush as per your choice. After when you have applied the mixture, gently massage for 3 minutes then clip your hair and let it sit properly. Rinse the hair thoroughly.
Sugar used in this scrub will readily help in breaking down the glycolic acid which dissolves dead skin cells, says Cucinello. Coconut oil is used just because it contains lots of fatty acid and has inflammatory benefits towards this problem. Peppermint oil improved blood circulation to the scalp and tea tree oil has antifungal, antimicrobial and antibacterial effects.
3. Honey, ACV, and Coconut Oil Mask for Dull Hair
Make sure that your hair properly moisturized and healthy which makes your look better, fresh and young. When the hair strands start to lose their luster, it definitely become dull and dry so in this case, apple cider vinegar will do magical treatment to enhance the gloss and shine into your hair.
Ingredients
Equal parts of Raw Organic Honey and Apple Cider Vinegar
Directions
Apply the blended mixture on your damp hair and leave it for at least 20 minutes. After that, shampoo your hair properly. Great recipe for all hair types which helps in lock in the color and moisture into your hair.
4. Cinnamon and Coconut Oil Mask for Hair Growth
This antimicrobial spice is known to stimulate the blood circulation to your hair that is why it is recommended to use cinnamon-based mask, says Liana Zingarino, a hair stylist at Serge Normant at John Frieda Salon in New York City.
Ingredients
Equal parts of Cinnamon and Coconut Oil
Directions
Blend the mixture well together then apply the mask onto your hair and massage your scalp. Wait for 35 minutes then rinse it off. Do this remedy for at least once a week.
5. Green Tea and Apple Cider Vinegar Rinse for Irritated Scalp
Green tea has thousands of health benefits so for the health of hair, says Sadah Saltzman, a hair stylist at Salon AKS in NYC. Green tea has lots of antioxidants and powerful nutrients that calm and rebalance your irritated scalp. Peppermint oil is useful to promote blood circulation whereas, the apple cider vinegar contains antibacterial and antiperspirant properties that will keep your scalp hydrated.
Ingredients
Apple Cider Vinegar – 1 tbsp
Directions
Mix them well together and massage into your scalp. Wait for at least five minutes then rinse it off.
6. Egg White and Lemon Mask for Greasy Hair
Egg mask will do wonders if you are going through the problem of greasy hair, says Saltzman. Use just the white part of an egg which has proteins and enzymes to help remove the excess oil from your hair.
Ingredients
Directions
Apply the mask all over your hair from roots to the ends. Leave the mask for 30 minutes or an hour. Longer process would be much better. Rinse with lukewarm water but not hot.
7. Avocado, Egg, and Olive Oil Mask for Damage Hair
Variety of sources depend upon the damaged hair such as styling tools, environmental factors, bad and polluted air, hair dyes and many more. Now the good news is that it can be fixed with just three ingredients.
This hair mask is full of omega-3 fatty acids which is the best treatment to get ultimate shine and volume into your hair, says, Zingarino that the antioxidants found in these ingredients will strengthening up your hair and will fight against the free radicals. Joel Warren of The Salon Project is a big fan of this avocado-based mask because it is amazing to rejuvenate and moisturize the scalp.
Ingredients
Directions
Apply the mask to your wet hair using fingertips. Start from the bottom and working your way up. Warren recommends that after applying the mask, it would be good to cover your entire hair with a shower cap. To make it more useful, blow dry your shower cap-covered hair for about 10 minutes. Then wait for 20 minutes and wash it off in the shower.