DIY After Shave
Do you want to make your own all natural after shave lotion? Yes you can easily make at home and not need to buy it from shops. This lotion will work with both men and women. This lotion heals the irritated and inflamed skin.
This is super easy DIY after shave with only a few ingredients like coconut oil, aloe vera and witch hazel. Mostly we found it in our home, all ingredients are good for hydrate dry skin, calm and soothe irritation. This homemade after shave is effective, healing and smells delish.
So here is the recipe of DIY After Shave: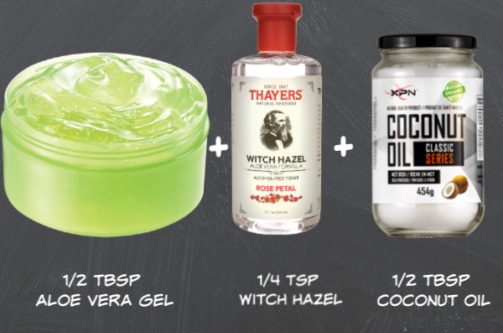 Ingredients
Coconut Oil – 1/2 tablespoon
Aloe Vera Gel – 1/2 tablespoon
Witch Hazel – 1/4 teaspoon
Instructions
Mix all ingredients in a small bowl and apply this mixture to freshly shaved skin with the help of your fingers.
Gently massage in circular motion for few minutes.
Do not rinse it off.
Repeat as needed.
Benefits of DIY After Shave

Aloe vera – rich in healing properties, it makes soothe dry skin, irritation and inflamed skin.
Coconut oil – helps to hydrate and moisturized the skin, also it provides glow. 
Witch hazel – is a natural toner which helps to balance the skin's PH, control excess oil on skin and make it soft and smooth. 

Like this post? Share, Pin, and Comment Below 🙂