How to Make Litti Chokha at Home : Recipes
Litti Chokha is a traditional dish eaten mainly in the states of U.P., Bihar and Jharkhad. It can be had for breakfast or snack, and if accompanied with daal aside it can be eaten for Lunch and dinner too. One can find this dish made traditionally in villages of Bihar and is as famous as a burger in America.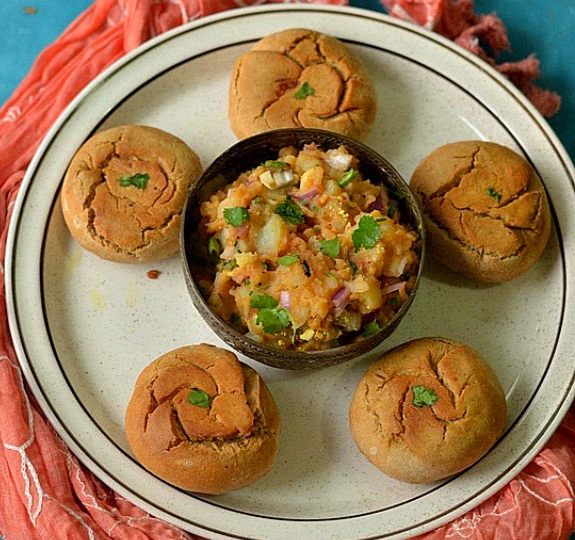 Litti is similar to Bati in appearance with a tiny difference that the stuffing for litti is made with Sattu (roasted Bengal gram flour) and this stuffing is known as Pitthi. Litti is traditionally eaten with Chokha – which is either made up of char-grilled Eggplants (aubergines) or mashed potatoes. In some households, they do a mix of both and prepare the Chokha, which is basically just another name of bharta (mashed potatoes/brinjals).
Ingredients for Litti
To make dough:
Wheat flour – 400 grams (2 cup)
Ajwain(carom seeds) – 1/2 tsp
Ghee – 2 tbsp
Curd – 3/4 cup
Baking soda – 1/2 tsp
Salt – 3/4 tsp
Ingredients for stuffing(Pitthi)
Sattu – 200 grams (1 cup)
Ginger – 1 inch long piece
Green chilly – 2 to 4
Green coriander(dhaniya) – 1/2 cup(finely chopped)
Jeera(cumin seeds) – 1 tsp
Ajwain(carom seeds) – 1 tsp
Mustard oil – 1tsp
Pickle spices – 1 tbsp
Lemon – juice of 1 lemon (if you prefer)
Salt – add to taste ( 1/2 tsp)
Ingredients for Chokha
Brinjal(big) – 400 grams (1 or 2)
Tomatoes – 250 grams ( 4 medium sized)
Green chillies – 2 to 4 (finely chopped)
Ginger – 1 1/2 inch long piece ( finely chopped)
Green coriander – 2 tbsp ( finely chopped)
Salt – add to taste (1 tsp)
Mustard oil – 1 to 2 tsp
How to make Litti Chokha
Prepare dough for Litti
Filter the flour and keep it in a utensil, put Ghee, baking soda, Ajwain and salt in flour then mix well. Beat curd and put it in flour as well. Knead a soft dough using warm water. Cover the dough and keep aside for 30 minutes. Dough required to make Litti is ready.
How to make Stuffing for Litti
Wash, peel and finely chop ginger(you can also grate it). Break the stems of the green chillies, wash then finely chop them. Clean green coriander, wash then finely chop the leaves. Take out Sattu in a utensil put chopped ginger, green chillies, coriander, lemon juice, salt, Jeera, Ajwain, mustard oil and pickle spices in it. Mix all the ingredients properly, if the Pitthi seems dry then add 1-2 spoons of water to it, Sattu Pitthi is ready.
How to make Litti
Break off medium sized pieces from the dough. With the help of your fingers expand the pieces 2-3 inches in diameter. Place 1- 1 1/2 tsp Pitthi on it, wrap up the dough piece and close from all sides. Press this stuffed pieces to flatten it a bit, Litti is ready for frying.
Heat the Tandoor(furnace), place the stuffed pieces of dough in the Tandoor and cook it by turning sides regularly till they turn brown (traditionally Litti is cooked on a Upla).
How to make Chokha for Litti
Wash brinjals and tomatoes then fry them. Allow them to cool, peel the skins, keep them in a bowl and mash with a spoon. Put the chopped spices, salt, oil and mix properly. Brinjal Chokha is ready.
If you prefe garlic and onion then peel 5-6 cloves of garlic then finely chop them. Peel 1 onion, chop it finely and mix these with brinjal.
Aloo ka Chokha
Peel 4-5 boiled potatoes break them into small pieces, add chopped ginger, green chillies, green coriander, red chilly powder and salt to it then mix well. Aloo ka Chokha is ready.
Serve
Put Chokha in a bowl, dip hot Litti in melted Ghee, Litti can also be broken at the centre and then dipped. Serve with Chokha, green coriander chutney and eat..
Serves – 4
Cooking time – 1 hour, 30 minutes