These are the simple dinner recipes you turn to time and time again if you need to feed the family or kids. There's something for everyone with lots of good, fast, vegetarian, chicken, and budget-friendly ideas.
Zucchini slice
Pumpkin soup
Easy fried rice
Zucchini slice
METHOD
Step 1
Preheat oven to 170C.
Step 2
Beat the eggs in a large bowl until combined. Add the flour and beat until smooth, then add zucchini, onion, bacon, cheese and oil and stir to combine.
Step 3
Grease and line a 30 x 20cm lamington pan. Pour into the prepared pan and bake in oven for 30 minutes or until cooked through.
INGREDIENTS
5 eggs
150g (1 cup) self-raising flour, sifted
375g zucchini, grated
1 large onion, finely chopped
200g rindless bacon, chopped
1 cup grated cheddar cheese
60ml (1/4 cup) vegetable oil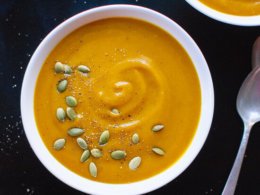 Pumpkin soup
METHOD
Step 1
Heat oil in a large saucepan over low heat, add onion and leek and cook for 2-3 minutes, until softened but not coloured. Add garlic and spices and cook, stirring, for 30 seconds. Add pumpkin, potato and stock and bring to the boil. Turn heat to low, cover and simmer for 30 minutes. Allow to cool slightly, then blend in batches.
Step 2
Return soup to pan, stir through cream and reheat gently. Season and add a little more nutmeg if desired.
INGREDIENTS
2 tablespoons olive oil
1 onion, finely chopped
1 leek, white part only, finely sliced
1 garlic clove, crushed
1/2 teaspoon ground coriander
1 teaspoon ground cumin
1/2 teaspoon freshly grated nutmeg
1kg peeled pumpkin, diced
1 large potato, peeled, diced
1L Massel chicken style liquid stock or vegetable liquid stock
1/2 cup (125ml) thin cream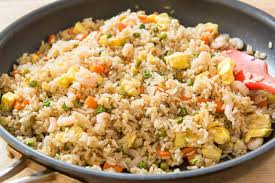 Easy fried rice
METHOD
Step 1
Cook the rice in a large saucepan of boiling water for 12 minutes or until tender. Drain and leave to cool.
Step 2
Heat oil in non-stick wok or large frying pan over medium heat. Add eggs. Swirl over base to form an omelette. Cook for 2 minutes or until set. Transfer to a chopping board. Set aside to cool slightly. Cut into short strips.
Step 3
Add bacon to wok. Cook 4 minutes until light golden. Add carrot. Stir fry 1 minute. Add shallots, peas and rice. Cook, stirring, 3-4 minutes. Add egg and soy sauce. Stir until heated through. Sprinkle with sesame seeds and top with extra shallots. Serve immediately.
INGREDIENTS
1 cup white long-grain rice
2 teaspoons vegetable oil
2 eggs, lightly whisked
2 bacon rashers, chopped
1 carrot, peeled and grated
2 shallots, trimmed, finely sliced
1/2 cup frozen peas, thawed (see notes for Low FODMAP substitution)
1 tablespoon soy sauce
Sesame seeds, to serve
Shallots, sliced, extra, to serve