Homemade Nipple Cream / Nursing Balm / Boobie Balm
Every breastfeeding mother will have a good salve or balm for the nipples after hearing from the other mothers. At the start when you are breastfeeding the new born, you feel really prickly while baby touches to your breast. Gradually mother and baby create a link between each other and try to find the nursing rhythm and then baby finds a right way to latch to his mother. Finally by the every passing day, your nipples are used to play a new and significant role in providing the nutrition to your little one.
I have thought much time that what should be the precise way to keep your nipples soft and smooth for the day long. An idea came to mind, "Why not preparing a homemade nipple cream"? So, I got really enthusiastic in making this one as it is just a superb recipe and easy to make. Yesterday, I made Boobie Balm to use it immediately after baby has stopped breastfeeding. This balm is suggested to apply in those first few weeks on the daily basis. I know that every mother will get excited to know this amazing recipe as I understand how cracked, dry and sore nipples a mother can get when linking to her baby and work with it.
You will need to have only three ingredients that are:
Beeswax – it helps locking the moisture into the skin and stimulates the growth of the cell.
Shea Butter – it keeps your skin calm, smooth, moisturized, used in minor cuts or cracks in the skin.
Coconut Oil – it leaves your skin healthy and rejuvenate all day long along with fighting off the several infections by keeping the skin moisturized.
Ingredients:
Instructions:
Step 1: First take coconut oil in a small pan then put the pan on the medium-low heat as to melt the coconut oil properly.
Step 2: Now add the Shea butter and let it melt as well.
Step 3: Melt the beeswax also (remember beeswax takes some time to get melt).
Step 4: Stir these ingredients well.
Step 5: Place a container near to you and pour the mixture in it then allow it to set for 24 hours.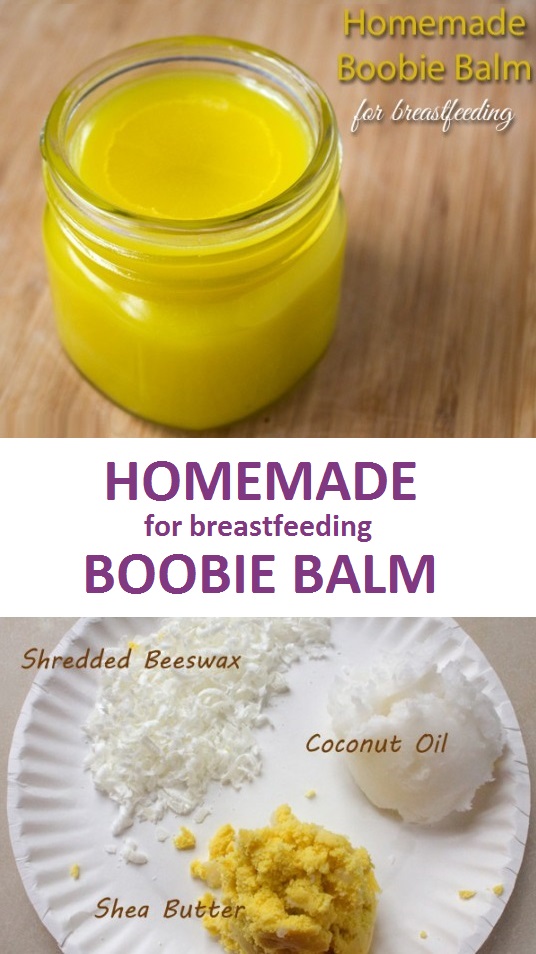 Apply just a little amount of boobie balm on your sore nipples and you will feel the softness and nourishing breasts whole the day.